Hello, peeps. Can I just say thanks? Thanks to all of you who played along in our little mapping game. It was so fun for the kids and I all weekend. They rushed over to the computer every time it made the little 'ping' letting us know there was a new comment. Made the days go by so much faster.
And, hello? Some of you get to live in just about the best places ever. I am highly jealous. I would love to live in a little fishing town in Scotland. Or Denmark. Or Australia.
Heck, on this cold day, I'd happily take California.
I am highly intrigued by the reader living in Qatar, however. In my ignorance, it sounds positively terrifying. And the reader in Singapore! Sounds very exotic.
But maybe the grass isn't greener. Maybe you wake up in your respective cities, bored, tired, hungry, and head off to work. Or you grit your teeth and clean up spilled milk, wishing desperately to be somewhere else. Somewhere really exciting like Missouri.
Nah. Pretty sure your lives are awesome.
Anyway, here is the rundown, with the states highlighted in white having no commentors. Clearly, I am not loved in the Dakotas. Or that big chunk that runs down through Arkansas.
As you can see, I am represented by you fine people elsewhere though. I am highly adored by the good people of Utah, with California a close second. Ironically, no one from my own state of Missouri commented, though theoretically I have friends and peeps here. I'm pretty sure a few of my real-life friends read. But maybe not? Maybe I'm not as cool as I think I am.
Oh well. At least I'm loved in Australia. And maybe one of the readers down there knows Hugh Jackman? If you see him, tell him to call me.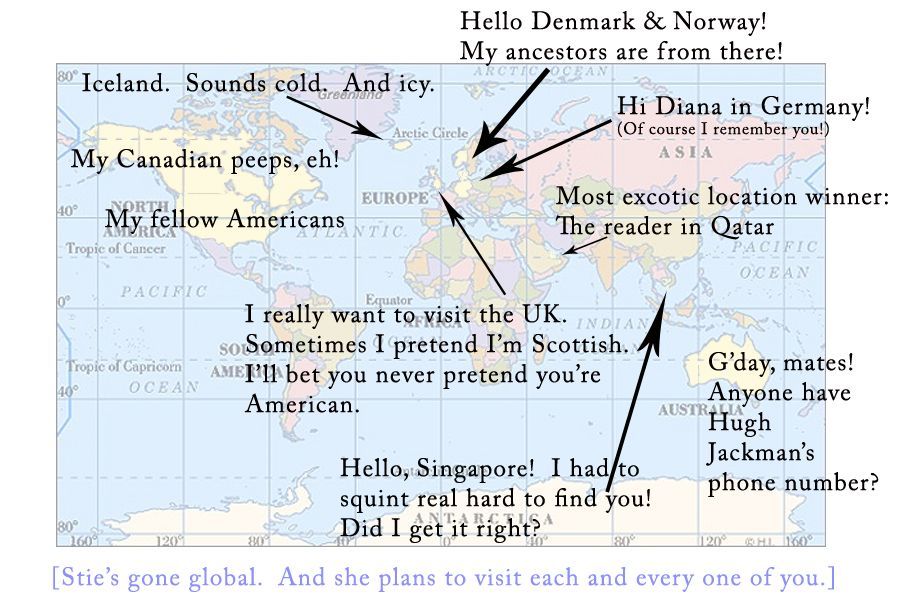 Anyway, thanks for keeping us busy and entertained on what could have been an otherwise hard weekend. You are the best.
And if any of you have guest rooms and would like me to visit, just say the word. I'm just generous enough to impose myself upon you for weeks at a time.
Except Qatar. I'm slightly scared of things over in that neck of the woods right now. Matter of fact, Qatar, shall I ready my guest room for YOU?
**Updated to add: I misappropriated my Netherlands reader! So sorry - you mentioned being from Minnesota, and I put the tally there by mistake. I have people in the Netherlands! Woo!